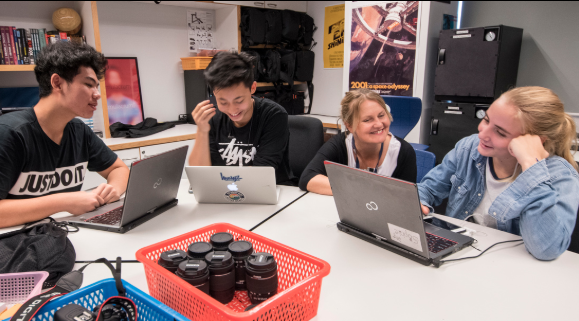 Cindy Barnsley is an educator who is motivated by a strong belief in the transformative nature of education. She has a proven track record as a leader who is focused on mission-driven education and developing the potential of every student. She is an Institute of Leadership and Management (ILM) accredited Performance Coach, IBEN Workshop Leader and SVTM, DP & MYP teacher and Examiner (MYP), and has been an Apple Distinguished Educator since 2009.
Cindy has expertise in middle years' education, data-informed strategic planning, and organisational growth and has held leadership roles including Secondary Associate Principal, Head of Curriculum, MYP coordinator, middle school curriculum coordinator, and head of department.  As a member of whole school (D-12) and secondary, middle and high school leadership teams, her experience in school­wide and divisional initiatives includes:
new middle school programmes (11-14 year olds) in three schools
connections (pastoral) programmes to build strong relationships
professional learning programmes (teacher growth)
teacher observations and evaluation
coaching (Cognitive Coaching and GROW models)
strategic school development (annual, three-year and five-year development plans)
policy development (teaching and learning, inclusion, academic integrity, languages, assessment)
curriculum review and the implementation of standards and benchmarks
recruitment, staffing, and scheduling
assessment and reporting design
international accreditation (CIS / WASC) and IBO self-evaluation cycles; and
the creation of new courses including film and media, interdisciplinary units, and electives
Cindy has almost two decades of teaching experience as a teacher of IBDP and MYP Language and Literature, Arts (Film), Individuals and Societies, and in the American, Australian, and British systems.
What students say …
"I just wanted to say thank you for being such an awesome teacher over the past two years. I always looked forward to English class throughout IB, which is not something I can say about English in my previous years of school. Your teaching style works so well for me and the lessons were always so engaging; I can definitely say that I have improved when it comes to understanding and analyzing different perspectives and I think that your classes have made me more mindful and aware as a person."
"Thank you for being a really cool English teacher. All the effort you put into setting our tasks is amazing."
"Thank you for making our film class very exciting. I've enjoyed every class we've had so far and always look forward to learning something new every class."
"Thank you for helping our class go through English smoothly from analyzing advertisements to learning about all the literary devices and oral exam skills. And, thank you for the constant help with my EE."